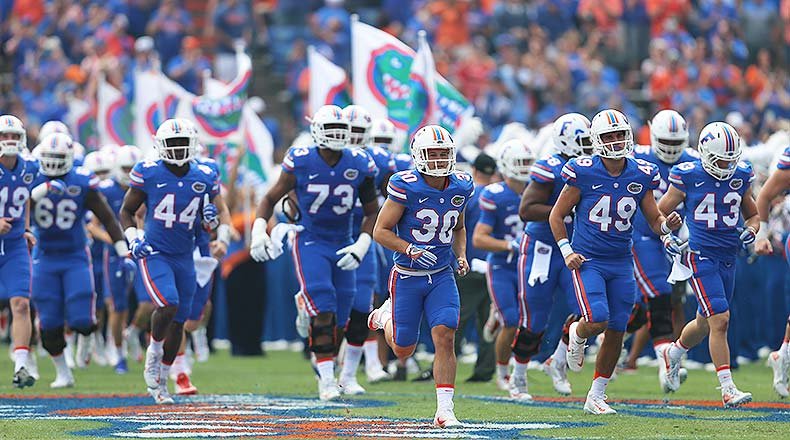 The College Football season is upon us with a full slate of games this weekend. One of the headliners includes a heavyweight tilt at AT&T Stadium between number eleven Michigan and the seventeenth ranked Florida Gators.
Already behind the eight ball, Florida enters the season without a whopping ten players currently serving suspensions for breaking team rules. The list includes standouts in wide out Antonio Callaway and running back Jordan Scarlett.
The latter of those two, Jordan Scarlett, is facing an indefinite suspension for misusing school funds. According to MyNews13 in Florida, it was a teammate who implicated Scarlett as well as Wide Receiver Rick Wells to school police.
Spectrum Sports has learned that a Florida Gators player implicated running back Jordan Scarlett and wide receiver Rick Wells into an ongoing investigation of a misuse of school issued funds.

According to a source, the Gators player named both Scarlett and Wells to the University of Florida Police Department.

The source says that their involvement in the alleged misconduct is the reason both will be suspended for Saturday's season opener against Michigan. Head coach Jim McElwain confirmed Wednesday the two players will not travel to Arlington, Texas, but did not specifically address the reason for their suspension. McElwain says he wasn't made aware of Scarlett and Wells involvement until Wednesday afternoon.

Scarlett led UF in rushing last year, totaling 889 yards and six touchdowns. He was expected to start this week.

The Gators will now be without 10 players for Saturday's opener. On August 13, seven players, including top wide receiver Antonio Callaway were suspended. Multiple reports link the seven suspensions to a misuse of school issued funds.
Gators Head Coach Jim McElwain is facing an uphill battle coming off of a pair of four loss seasons in his two years at Florida.